Barrel O' Monkeyz provides access to the tools, talent, and expertise you need every step of the way as your company and your business grows—from "top-of-the-funnel" low-cost options for kicking the Monkeyz wheels and getting to know us, to strategic planning relationships, foundational work designed to help you gain traction in the marketplace, and retainer-based work to keep you growing.
Step 1—Strategic Planning (0-30 days)
We do a 30-day deep dive into what makes your organization tick, starting with your target customers, your current position in the marketplace, where you'd like to be in 6-12 months, and the strategy we recommend to get you there!
Barrel O'Monkeyz Strategic Planning Deliverables Typically Include the Following:
Positioning
Business Model
Your Story
SMART Goals
Competitive Analysis
Digital Analysis
Market Opportunity
Target Market
Target Audience & Personas
Go-To-Market Strategy
Sustained Advantages
Strategic Relationships
Roadmap & Milestones
Assumptions & Risks
Step 2—Foundational Work (30-60 days)
Barrel O'Monkeyz performs the set-up work necessary to support your go-to-market strategy. This foundational work may include website and landing page development, production of video and graphics assets, content creation, establishing or refreshing your social media presence, and more.
Depending on your needs, we can also set you up within the HubSpot Marketing and Sales Hubs or with Zoho CRM (both of which require a subscription) for full access to a wide range of email automation, social media tools, and analytics.
Barrel O'Monkeyz Foundational Deliverables Typically Include the Following:
Keyword analysis and strategy, SEO
New website design and development or revamp existing website
Call-to-action and landing page development
Create or refresh social media presence
Content development that tells your brand story (website copy, social media posts, blogs, articles, whitepapers, brochures, etc.)
Video storyboarding, scripting, shooting
Logos, corporate IDs, additional graphic assets
Digital advertising
Email marketing platform set-up and template
List building and list segmentation
Collateral and brochures
Public relations and media relations
PowerPoint presentations
Traditional advertising
Special events
Tradeshow presence and materials
Kickstarter/crowdfunding
Development of nurture workflows (requires a PRO HubSpot subscription)
HubSpot setup, management, training, and oversight
Zoho CRM setup, management, training, and oversight
Step 3—Strategic Execution (60-180+ days)
This is where the planning and foundational work come together as Barrel O'Monkeyz deploys all aspects of your go-to-market strategy. Throughout a retained 6-month contract with clients, we deploy assets, manage the process, measure performance, and adjust as needed to achieve marketing goals.
Barrel O'Monkeyz Strategic Execution Deliverables Typically Include the Following:
Deployment
Management
Monitoring
Adjustments
 
Lather, Rinse, Repeat!
Barrel O'Monkeyz customizes its team and approach to match the needs of clients. We are a virtual agency able to draw upon talent in numerous specialties to put together the team you need to achieve your goals.
We require all clients to commit to a minimum of 30 days so that we can adequately assess your situation and craft recommendations to get you where you want to go.
On average, your Monkeyz team will consist of 3-4 members, including a project lead plus technical experts. Clients and team meet every two weeks (and sometimes more often at startup).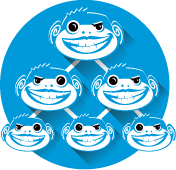 Barrel O'Monkeyz Works with Clients . . .
On an hourly basis for ad-hoc, short-term projects (30 days) or for ongoing maintenance, such as maintaining a website or social media platform.
On a project basis for longer term projects (30-60 days), such as developing or refreshing a website, establishing a social media presence, or creating a corporate ID package.
On a retainer basis for long-term relationships (60-180 days or more) where Barrel O'Monkeyz acts as the client's outsourced agency, executing strategy, monitoring results, and adjusting tactics and strategy as needed to keep clients tuned up and in-tune with their target audience and the marketplace.
 
Pricing for all Barrel O'Monkeyz work Is based on a blended hourly rate of $165/hour.
For hourly work and project-based work, we use this rate to help estimate costs associated with a specific task or project.
Before any work begins, we provide clients with a detailed estimate that describes the work to be done and the timeframes involved.
For retainer clients, our average monthly fee is $4,000. This amount can be higher or lower, depending on the specific scope of work and client needs.
Retained clients typically utilize Barrel O'Monkeyz to deploy and manage their outbound marketing activities (such as email campaigns, social media, digital advertising, content development and deployment, etc.) or to act as their all-around, outsourced marketing team.
All Barrel O'Monkeyz Pricing and Deliverables Are Subject to Change.
If you have questions about Barrel O' Monkeyz services, pricing, or how we can help, please contact us.
LET'S GET CREATIVE
​Based in San Diego and active across southern California and beyond, Barrel O'Monkeyz serves as a seasoned, outsourced marketing agency specializing in both business-to-business and consumer-based marketing. Our barrel is full of talent and creative minds ready to help companies tell their brand stories, ramp up sales, and launch new products.